The land which the Uniting Church has suggested might be used for MyHome in Canberra is part of Block 1 Section 15 in Curtin ACT. It currently has on it only one house, the manse for the Uniting Church.
The Master Plan for the Curtin Group Centre, published in November 2018, highlights this block as one of three in the centre of Curtin with potential for redevelopment. The Master Plan suggests the block should be developed for community uses, in line with the land‑use zoning in the Territory Plan, mentioning both supportive housing and affordable housing. The relevant section is on p67 of the Master Plan:
BLOCK 1 SECTION 15 CURTIN (VACANT BLOCK ON THE CORNER OF THEODORE AND CARRUTHERS STREETS)
Encourage development of community uses (such as supportive or community housing) on Block 1 Section 15 Curtin at the corner of Theodore and Carruthers Streets. Allow for a mix of building heights across the site, with lower building heights at the western end of the block and increasing in height at the eastern end, where the site is lower and buildings will be less prominent in the landscape. Lower building heights are also proposed facing on to Martin Street to provide an appropriate interface with the adjacent existing one and two storey residential development. Buildings heights are to be generally consistent with Map 20.
Block 1 Section 15 Curtin offers opportunities for a diverse mix of community uses to support the community. Due to the site's proximity to future rapid public transport on Yarra Glen, the shops/services in the centre, schools and regional facilities provided in the nearby Woden town centre, part of the site should be investigated for a recognised form of affordable housing.
An "indicative development option" for this block is shown in Map 20 of the Master Plan (also on p67), reproduced below.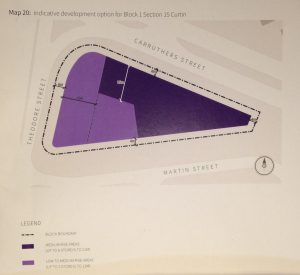 This development option is also included in sketches on pp56-57 and pp80-81, reproduced below.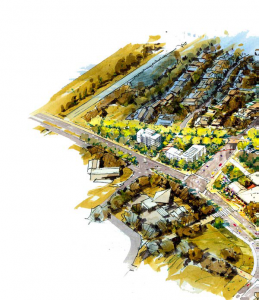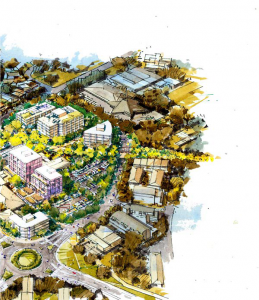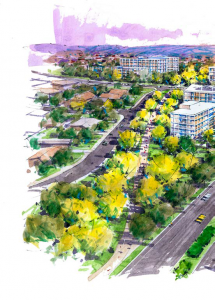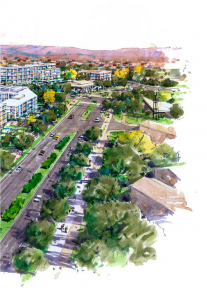 It would be fully consistent with this suggested option for the development to include the housing units and shared facilities proposed for MyHome in Canberra.